Is Acabado theme worth it? Free and premium alternatives (Nov 2021)
Disclosure: This post may contain links to affiliate partners and products, that I have selected manually and would or have bought myself. I will get a commission if you decide to purchase anything after clicking on these links – at no cost to you.
This is an analysis of Acabado from the outside (using all possible sources and tools without actually owning the theme) – but an honest one, not trying to sell you the theme, regardless of its good/bad fit. I didn't buy the theme to test it – but I did a thorough analysis of all the info that's available out there, that might save someone else some time or money. You actually don't need to own the theme to be able to see its details, so here it goes.
TLDR;
You can get very similar results and better customisation & design by using the free Kadence Theme or free GeneratePress theme. For even better features and customisation options, I recommend (and personally use) the Kadence Theme Premium or GeneratePress Premium. A hidden benefit is that both themes out of the box (no customisation at all) look much better than the Acabado theme and have more built-in customisation options. You can see the limited Acabado customisation options here, Kadence demo here, GeneratePress Free in this video and Premium options in this one.
Also note, speed isn't everything. Great content + ok speed + good look beats average content and 99/100 on PageSpeed. Acabado is a pretty ugly theme, albeit fast. Focus on content first with a good looking FREE theme, get some traction and results, confirm your idea has legs. Then you can optimize the hell out of it by paid themes.
Or read my Kadence post for more info on why I recommend it over all other themes and use it for almost all projects.
Steps I took to investigate / review the Acabado theme:
studied its features, benefits and settings using their landing page info + this training video (where you see most of its settings)
reviewed 10+ other websites that use the Acabado theme – not just the ones that the authors refer to, but we found many other websites too
speed tested all these sites and compared their design against each other (in other words, we confirmed that they all look the same)
compared the results with other alternative themes that deliver similar results
I'm not saying that Acabado theme isn't good for a specific purpose. I just spent some time analysing its results and compared it to some free alternatives and found that you don't really need it. But if you really like what Acabado theme authors Income School are doing, or the theme's features, then go ahead and purchase the theme. They seem like a good bunch and based on a very thorough review of IncomeSchool (authors of the Acabado theme) by Ebizfacts.com, they know what they are doing (in terms of affiliate marketing – not developing themes, mind you!)

[Update November 2021] – no theme updates + not using their own theme?
It's been over a year and a half since I've reviewed the Acabado theme. Guess what has changed since then? …. Nothing. Their sales page looks exactly the same, the theme looks the same, the features they sell are the same.
In a year where WordPress has changed dramatically (Gutenberg, Block themes), the Acabado theme has not changed at all. So anyone who didn't heed my warnings here and bought the theme is stuck with the same features and can't really use the new enhancements that come with WordPress 5+.
Because IncomeSchool are marketing & sales experts – *not theme development experts* – they will likely abandon Acabado (…acabar Acabado?) because the WordPress environment changes so fast. And they might do it without saying so – more likely, they will leave it out there as long as there are some sales and the negative feedback won't overwhelm their support.
Here's an example – the theme was built with Divi and Elementor in mind, but might not be compatible with other page builders.
The theme authors are not using their own theme on their affiliate projects – purposeinchrist.com (as mentioned on their IncomeSchool sites page – image below). It's just a simple blog page (I wouldn't mention it here if it was serving a wider purpose – more services that require more complex design), but it really is a blog website – what Acabado is supposedly designed for. Yet they chose to use …wait for it… the Kadence Theme that I recommend below :D. So there you go… :mic drop: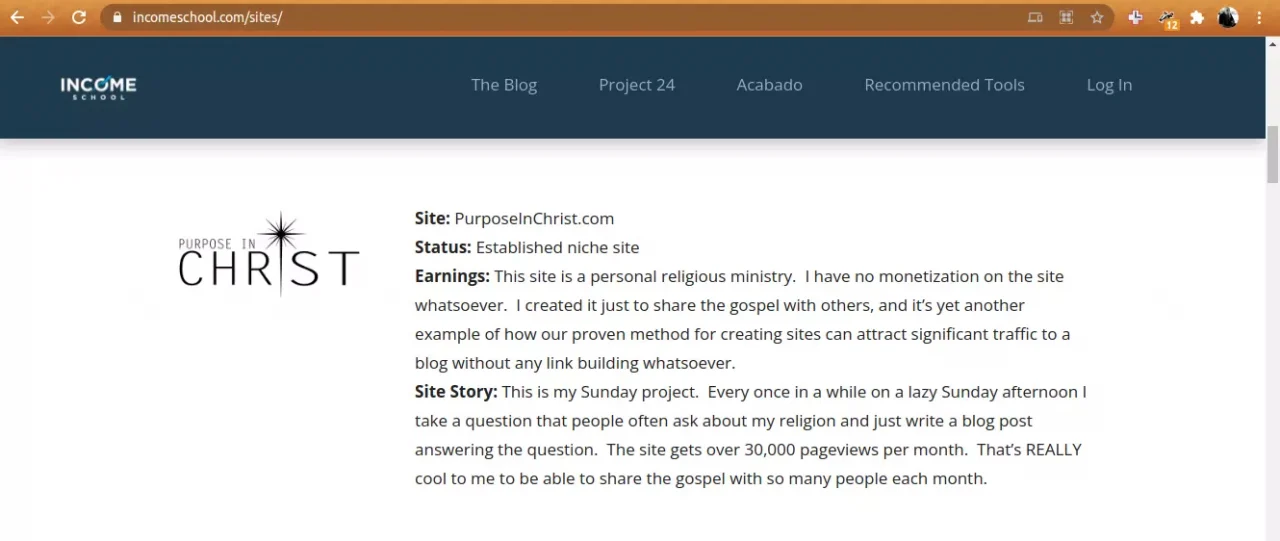 [Update July 2021] – User feedback:
The Acabado theme may be good if you build a website on it from scratch but after my experience transferring a website to it, I will never do that again….

In Short, I believe it's probably a good idea to stick to themes from theme companies and stay away from themes sales people create and sell.

Euan Campbell
[Update January 2021] – a good theme also needs fast hosting company:
It is also very important to host your site on a fast server. Any fast theme and optimisation will not be enough if your hosting is slow. I have written more about it in "When speed optimisation alone isn't enough: fast hosting is key for good page speed results". I was able to add ~20 points to my mobile PageSpeed rating just by switching to a better hosting provider – WPX.net.
A review might not be what it appears to be at a first glance:
‼ A word of caution: since earlier this year, the rules of Acabado affiliates have been changed. Now you can only become an affiliate if you purchase the whole Income School Project 24 membership ($449 per year). If you stop and think about it – what does that say about all the positive reviews of the theme that contain affiliate links? Of course, you would recommend the theme, you already paid quite enough for it – they have vested interest – double if you think about it – by recommending Acabado they can not only earn a referral fee but lower the already paid $449 cost of the Project 24 membership. (Heck, the whole Project 24 is about affiliate marketing, so it makes sense that all members will recommend the Acabado theme).
Therefore, to make sure you're getting an objective review, I recommend:
check if the review you're reading has Acabado affiliate links – if it does, it might not be the most honest/objective one.
check if the review contains more than just repeated benefits of the theme copied from the Acabado sales page. There's always more to a product than what the sales page tells you, look for reviews that do that.
check if the review compares the theme to any other theme out there, or just praises Acabado without giving any other alternatives (which there are always for any product).
For transparency – my Acabado links are not affiliate, but some of the other recommended themes are. You might think that of course, I wouldn't recommend Acabado over the affiliated themes. But – this review was written way before the aforementioned affiliate rules change – and I was still an affiliate of Acabado too. So all themes I review here were on the same level at the time of writing. If you read thoroughly, I recommend Acabado to a specific type of user too. But as they removed the affiliate option for non Project-24 members, I have removed the links to Acabado. That's the only change – the content is the same, I use the other recommended themes often + the updates which I clearly highlight.
Use your common sense, think for yourself and decide what's best for you using information from this review, but also from the plethora of others ;).
[Update October 2020] – There's a new kid on the block too – Kadencewp.com's Kadence theme – pretty fast out of the box!
I just tested it quickly on this website (didn't leave it on as I need to do some design cleanup after switching themes + portfolio content needs transferring), but the results with the same setup are AWESOME for an authority/blog website sensimism.com: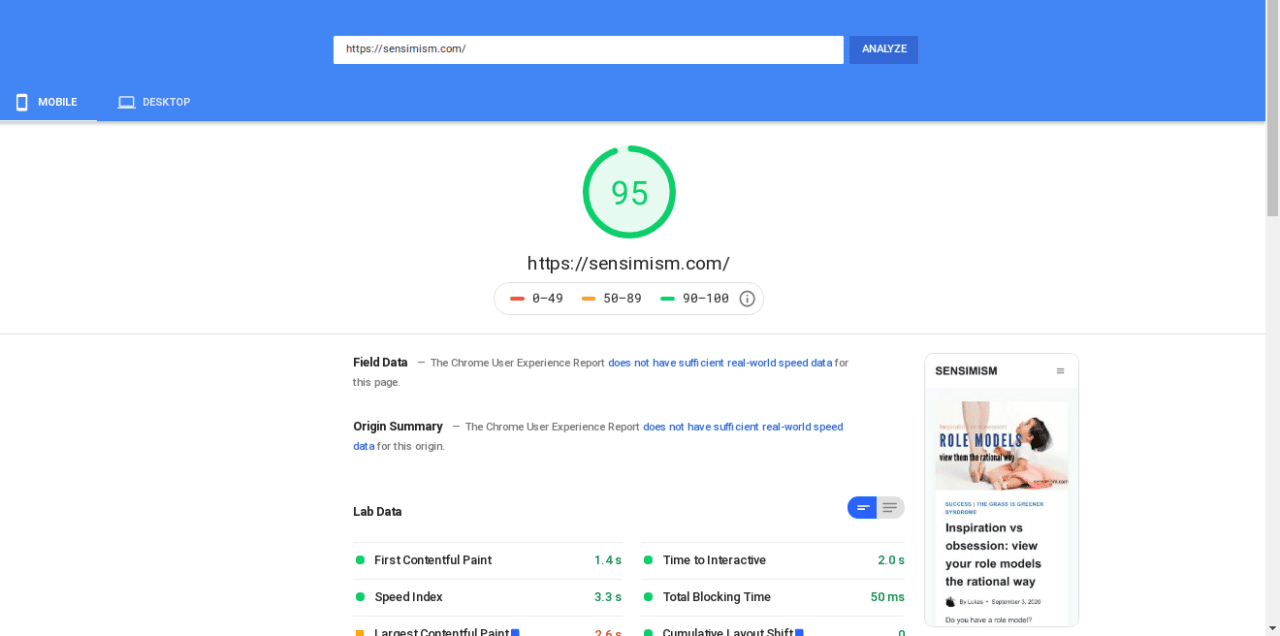 And pretty good for this website you're viewing now (using Elementor and a bunch of other heavier plugins):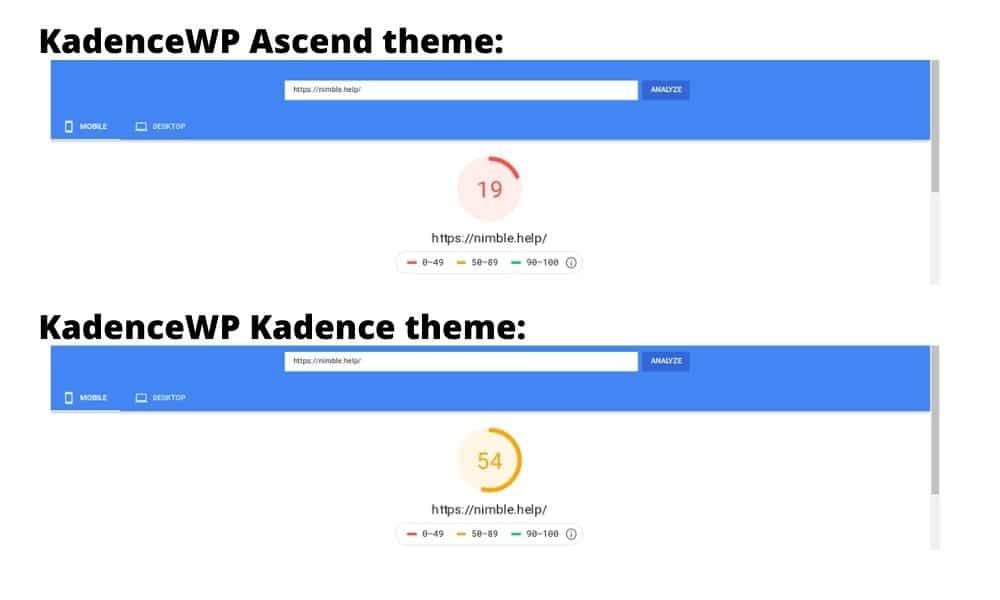 Kadence Theme (Free or Paid) is pretty fast, has many very useful customisation options, is available as FREE or PRO version, it's Gutenberg ready and compatible with many top visual builders. I'd like to test it against GeneratePress one day :).
[Update August 2020] – it's more about the content & marketing tricks than speed:
The authors of Acabado have released a video showing how they tripled the sales of an affiliate site (nice job!). But, there's another takeaway there – in the technical optimisation, they installed Acabado, but as they admit themselves – most of the improvement came from turning off plugins, rather than from Acabado. And still, the improvement wasn't that great (see 7:40; they say it's because the site has 13 plugins still active. Well, show me one sales or affiliate site that doesn't at least have this number of plugins nowadays). I also find it strange that they never actually show or mention the new PageSpeed result, they only show "3.5x" improvement at the end. That would mean 49/100, which isn't bad, but yeah, sounds less impressive than 3.5x improvement I guess. Overall – what they did is awesome – from 450 USD to 1650 USD monthly revenue with the same traffic. But it's much less likely due to Acabado and much more likely due to all the other tweaks they did. This brings me to the point of this review – why pay for Acabado if you can get GeneratePress for free (or up your game and look even better with Kadence Theme or GeneratePress Premium).
Acabado theme (initial) analysis
First, I checked other websites that use the Acabado theme (not only the ones featured on their pages) and can confirm that the theme is fast. These sites were getting above 80/100 on Google PageSpeed insights. And that's without us knowing how many other plugins they have installed. So far so good.
Then, I looked at about 10 different sites using it. Just looked at their homepage. They all look the same and fairly ugly. Guess that's because there are not many customisation options and the target audience isn't the CSS and HTML savvy one. You can click to a better design using GeneratePress Free theme, or if you prefer even more options, Kadence Theme Free or Premium GeneratePress Premium. Acabado theme is so focused on speed, that it had to let go of certain design features – what they call clean, I call bare. Again, great from a speed perspective, not so much if you want your site to also look nice.
The good about Acabado's bare design is that it's mobile-first and therefore very fast. All the bells & whistles have been stripped, less CSS and javascript mean the theme is very fast on mobile too.
If you don't mind having an ugly site and all you focus on is content + speed, then Acabado might give you the edge. If you want similar results, but also want to have a fast website, there are better and FREE alternatives, read on.
We have found the websites just by a quick Google search for "themes/acabado" – see for yourself.
Conclusion
If the aim is to have a theme that is fast and doesn't require much setting up and you don't care much about how it looks, then Acabado theme is a good enough option. Basically install it, fill in some basic settings and you're set up – just fill it in with content. Acabado theme best fit: pure affiliate websites that are primarily about content and don't care about custom / distinguishing design.
But… if you want a FREE theme that is also fast, doesn't require much setting up AND looks good (and lets you customise itself to some extent), then the free Kadence Theme or free GeneratePress theme is your best call. And of course, Kadence Premium or GeneratePress premium version will boost all these benefits further (although the general rule is that the more addons you activate, the slower any site will get).
There's also the new kid on the block – Kadence Theme (FREE or paid), that's amazingly fast + tons of options, Gutenberg integration, header and footer builder – so you don't even need any heavier visual builders that slow down your website. I like it so much that I'm using the Kadence theme on all my projects: this website, sensimism.com, nimblecamper.com, gabrielaholcer.com.
It's possible to have a fast site without sacrificing too many features – here's a website we built using GeneratePress FREE that scores 84/100 on Google Pagespeed mobile and 98/100 on desktop** (if our hosting isn't playing up and TTFB jumps up sometimes). You don't need more than that – 80/100 on mobile and great content = great Google rank for free!
** at the time of testing. The website is a live thing, new plugins, functionality might impact this over time.

Other themes I looked at
Hello theme from Elementor – it's a very stripped-down theme that's very fast, but also doesn't look very good (it's meant to be used together with Elementor page builder which itself is a great addition, you can build the entire website, including headers and footers very quickly and it's fast enough too (but it does add additional .js and .css files, so your Google PageSpeed performance will be worse, make sure you use it in combination with a very fast and reliable theme).
OceanWP theme – it has more customisation options, is still quite fast, but not as fast as GeneratePress. It achieved 73/100 compared to 97/100 of GeneratePress. But it looks much better and with 73/100, might be a winner if you need better design options without a builder.
Astra theme – very similar to OceanWP, also feels like Freemium where you need to buy bells and whistles to achieve the best result.
Fast hosting update November 2022:
I have moved my biggest website – nimblecamper.com to Rocket.net, here's why:
TLDR; – WPX was great to get my blog off the ground, I am happy I chose them. They helped me with some setup issues, their support was always great. But, I guess, my website outgrew their hardware setup possibilities and it's time to move on. I tested Cloudways, but it wasn't good enough for my 25K visits/month, Woocommerce + WPML + Adinserter + Ezoic website, Kinsta let me down with their monthly visits counting in bad traffic (bots, crawlers) which made it too expensive. I chose Rocket.net in the end and couldn't be happier – super fast backend and frontend, their support is very good and much more knowledgeable in WordPress ways than Cloudways, and monthly limits are generous.
backend slowness with heavier traffic – as my traffic (0 to 30K per month in 2 years) and website complexity grew (I've added Woocommerce + WPML + Adinserter + Ezoic ads), the backend was becoming slower and slower – until it was costing me valuable time in waiting for each admin page (dashboard, product or post editing page etc) to load + it was a pain in the ass to watch the screen load for 20s each time on WPX.net hosting. This hosting is better for sites with traffic below 25K or lower complexity plugins.

note that the frontend was running fine as it was on Ezoic's CDN and cached

too strict limits on concurrent operations – when I edit products in bulk, I open up to 10 WP product (or post) editor tabs. I kept being banned by WPX security system for too many operations (queries). Had to wait for 10 minutes, then start again. This was too annoying. I spoke to WPX support several times and there's nothing they could do – that's how their security is set up.
future scalability – if I'm experiencing slowness with 30K monthly visitors and my site is growing steadily each month, this was a necessary step in the evolution of nimblecamper.com. More traffic requires better hardware. First, I moved to Cloudways, where I can quickly scale up the hardware should my traffic spike faster – plenty of room to grow. But… my site was too much for an AWS 2cpu 2GB plan at 36 per month (when I worked on admin, say a product or a post update, the server went down with the entire site). And one level higher (2cpu, 4GB plan) was 86 USD per month – too much for what it was (I tested it, admin was still taxing it too much). So I tested Kinsta and it was good at the start – at 30 USD per month (25K visits limit though…) the website and admin is the fastest ever, their support is AMAZING and everything runs very smoothly. Plus, their hosting is geared towards WordPress websites, so their support knows everything you need for WordPress – all the tricks can be easily implemented and they offer incredible tools to monitor your usage, block countries you are not targetting (so that traffic doesn't eat up your plan + blocks brute force attacks from those countries).
BUT – Kinsta's 25K visits per month also count in all bad traffic – bots, crawlers etc. So my 30K website visits per month turned out to be 90K visits per month and I would have to pay triple for bad bot traffic. I tried all possible ways to limit bad bot traffic, but it's impossible. Hence, I moved over to Rocket.net and couldn't be happier.
price – at 26 USD per month I got 5 domains with WPX, which is great, but the hardware was shared with others, hence, I'm presuming, the admin slowness. At Cloudways, I tried starting with the 2GB DigitalOcean package, also at 26 USD per month, but that didn't cut it. At Kinsta's 30 USD / month, I get one website, but that's for a very low-traffic website if you count in bad traffic and crawlers, so not for me. With Rocket.net, I pay 25 USD per month, my website is the fastest ever – including the admin (I still can't believe how fast the admin is, considering it took 15-20s to load on WPX servers). And I don't have to worry about the bad bot traffic like with Kinsta.
If your website is approaching higher traffic and a more complex setup – go for Rocket.net too.